BENDY KITTEN'S WEB PAGE
HELLO! I am Bendy Kitten.

I am the product of too little knowledge when breeding. Although I am a wonderful kitten, please don't make more like me!

This is me at three weeks, after physical therapy.

I was born with deformed feet that turned under and leg bones that were curved. Take a look at my x-rays!

This is a mild form of Radial Hypolasia or Radial Adenesis. This condition is a deformation of the radius bone in their arms causing their legs to twist. Some of them are missing most of their forelegs completely! This condition is the result of inbreeding polydactyls. Some people are doing this INTENTIONALLY, making many deformed kittens and claiming they are 'studying the twisty gene.' These people (Karma Cats) call the deformed cats "twisties" or "twistie cats" I find this absolutely repulsive, that someone would deliberately create something that was handicapped!
I was accidental, NOT deliberate! You can read my long sad story.

My bob-tail is a little zig-zag. When mom got me I had been injured in a fight between queens,. How mom got me and my half siblings is a very long, sad story, but the important part is that she DID get us, and I was only two weeks old!

Mom bottle raised my and my half-sister, Six Toes. I also had a feline mom, Ninga. She was very sick with heart disease but was happy to have two children to take care of. She died 1/6/01, and we miss her very much!

These are my two moms. One feeding me with the bottle and the other cleaning me afterwards!You can see Six Toes too.
AT SIX WEEK OLD, I WAS PUT IN BRACES TO HELP MY FEET AND LEGS GROW CORRECTLY.
XRAYS HAD SHOWN THAT MY WRIST BONES WERE VERY FAR APART AND MY LEG BONES WEREN'T ABLE TO CONNECT WITH THEM. THE GROWTH PLATES WERE GROWING, BUT NOT ATTACHING TO ANYTHING. WE HOPED THAT IN BRACES EVERYTHING COULD GROW TOGETHER CORRECTLY. WE ALSO HOPED THAT WITH EXCERSIZE MY OTHER BONES WOULD DEVELOP NORMALLY.
IT DIDN'T TAKE ME LONG TO DISCOVER HOW FUN IT WAS TO RUN AND JUMP! MOM CHANGED MY BRACES SEVERAL TIMES A WEEK. I WAS ALWAYS VERY GOOD ABOU IT. I LIKED TO LICK MY FEET AFTER THEY WERE UNWRAPPED, THEY ITCHED! I NEVER TRIED TO SQUIRM AWAY OR TAKE MY BRACES OFF. MOM ALSO HAD BRACES ON, SHE SAID WE MATCHED.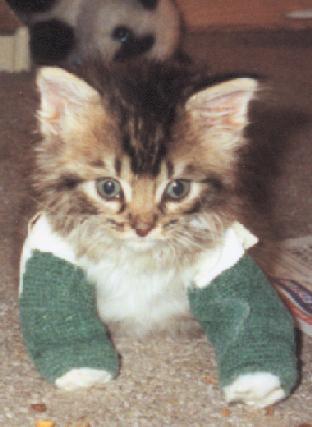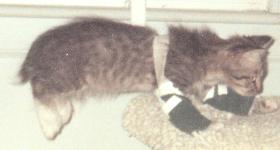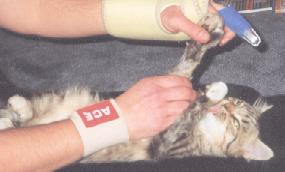 ON NEW YEAR'S EVE OF 2000, MY BRACES CAME OFF FOR THE LAST TIME!

<

MY LEGS HAVE BEEN STRAIGHT AND WONDERFUL EVER SINCE. I HAVE OTHER PROBLEMS, THO.

I HAVE TROUBLE WITH A LOT OF KINDS OF FOOD, EVEN THE REALLY GOOD KIND.

IF I EAT THE WRONG THING I GET HORRIBLE DIARHHEA. MOM HAS HAD TO TRIM MY LITTLE BUTT-FURS AND GIVE ME BATHS A LOT. PURINA KITTEN ONE AND BILL-JAC KITTEN GET ALONG WITH ME FINE.

FOR EXTRA FIBER WE ALSO GET SCIENCE DIET W/D AND SQUASH!! THE VET TOLD MOM THAT PUMKIN WAS A GOOD SOURCE OF FIBER FOR KITTIES, MOM TRIED ACORN SQUASH TO SEE IF WE WOULD EAT IT. WE LOVE OUR SQUASH!! IT IS JUST COOKED PLAIN AND ALLOWED TO COOL.

HERE ARE SOME PICTURES OF ME AND MY HALF SIBLINGS. YOU CAN LEARN ABOUT THEM BY FOLLOWING THE LINKS TO THEIR PAGES. THERE ARE MORE PAGES TO COME!

You can learn about Hermes here!
THIS IS SIX TOES (LEFT) AND HERMES.

HERMES IS THE ONLY SURVIVOR OF HIS LITTER. HIS MAIN PROBLEM WAS FLEA ANEMIA AND EAR MITES, BUT HE ALSO HAS STOMACH PROBLEMS.

SIX TOES WAS REJECTED BY HER FIRST MOM AT ONLY 3 DAYS OLD. SHE HAS BEEN BOTTLE RAISED EVER SINCE. SHE ALSO HAS STOMACH AND IMMUNE PROBLEMS.
THIS IS ME AND SIX-TOES. SHE HAS SIX TOES ON EACH OF HER BACK FEET.

You can learn about Six Toes here!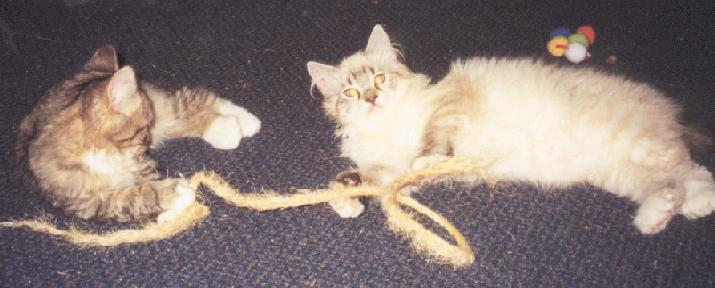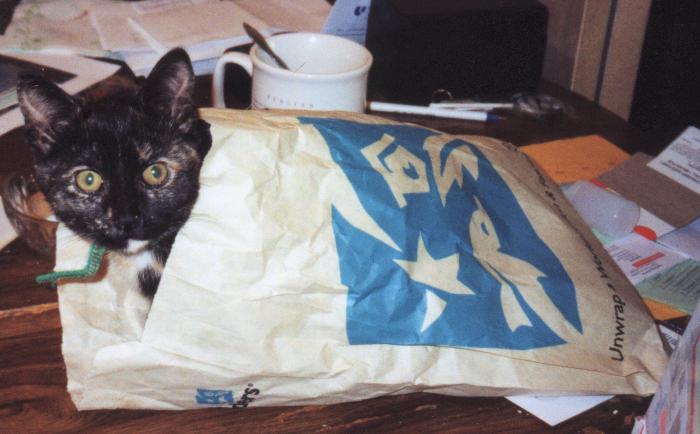 This is Ereshkigal. She is actually not related to me. She had a different mom and a different dad. Her mom had kittens by two different Toms. She was a very sick kitten. She had penumonia twice but pulled through with a lot of antibiotics and special care. She gets along fine with the adult cats and is the only one to challenge Bast!
I HAVEN'T BEEN WITHOUT OTHER PROBLEMS.

MOM CAME HOME ONE DAY TO FIND ME VERY LIIMP AND HOT AND SHAKING. SHE RUSHED ME TO THE EMERGENCY VET. I HAD A FEVER OF 106! I SPENT THE WHOLE WEEKEND IN ICU, SEE MY SHAVED ARMS? NO ONE EVER FIGURED OUT WHY I GOT SO SICK. FORTUNATLEY IT HASN'T HAPPENED AGAIN!

YOU CAN ALMOST SEE MY THUMBS IN THIS PICTURE.I AM THE ONLY KITTEN WHO HAD TO HAVE ANY OF THE EXTRA TOES REMOVED. I HAD ONE GROWING IN MY PALM, AND ANOTHER BETWEEN MY THUMB AND "INDEX FINGER" WHICH HAD A BIG DEFORMED CLAW. THE CLAW COULD NOT RETRACT AND KEPT GETTING INGROWN. I WALK MUCH BETTER WITHOUT THEM!

I ALSO HAVE TINY VESTIGAL TOES ON THE SIDES OF MY THUMBS, THE CLAWS ARE LITTLE STIFF PIECES THAT CURVE. THEY ARE SO SMALL YOU HAVE TO PUSH MY FUR AWAY TO SEE THEM! MOM SAYS THE EXTRA TOE GENE GOT STUCK IN A LOOP ON ME.

POLYDACTYLISM IS A DOMINANT TRAIT, SO IF THE "BREEDER" JUST WANTED THUMBED CATS, OR EVEN CATS WITH EXTRA TOES, SHE DID NOT HAVE TO INBREED.

IT WAS SUGGESTED TO MOM THAT OUR TROUBLES CAME FROM MANX HERITAGE. AFTER TALKING WITH A VERY HELPFUL MANX BREEDER AT A CAT SHOW (5/12/01) HOWEVER, SHE NOW KNOWS THAT MANX IS NOT INVOLVED.

THE BREEDER EXPLAINED THAT KINKS IN TAILS ARE INDICATIVE OF NON-MANX HERITAGE. THAT MANXES GET EITHER NO TAIL (RUMPIES) OR SHORT TAILS (STUMPIES) BUT DO NOT HAVE KINKS. SHE SUGGESTED AMERICAN BOBTAIL HERITAGE. THE BOBTAIL IS SUPPOSED TO CURL UNDER AT THE END, AND THIS BREED HAS SIAMESE TRAITS. MANY OF THE QUEENS, AND THE STUD, WERE COLORPOINTS WITH BOB TAILS, AND POLYDACTYL. SO AMERICAN BOBTAIL SEEMS TO FIT WELL.

LIKE ANY KIND OF BREEDING, IF SOMEONE DOES NOT KEEP RECORDS AND DOES NOT KNOW WHAT THEY HAVE, YOU GET LITTERS LIKE ME. I AM THE ONLY SURVIVOR OF MY LITTER. TWO WERE STILLBORN, WITHOUT INTERNAL ORGANS. MY SISTER DIED AT ABOUT 2 MONTHS OLD.

Mom had a long talk with an American Bobtail breeder today (6/2/01). She suggested that one cause of so many kittens being sick could be either blood type incompatibility or a strept infection in the mom transfered to us kittens in the birth canal. Gives us a lot to think about!

IF YOU DECIDE TO BREED CATS,PLEASE BE RESPONISBLE!
KNOW THE LINEAGE OF YOUR FOUNDER CATS!
IF THERE ARE HEALTH PROBLEMS DO NOT BREED THOSE CATS!
LEARN AT LEAST THE BASICS OF FELINE GENETICS!
LEARN ABOUT NEONATAL KITTEN CARE
LEARN HOW TO MONITOR YOUR KITTENS AND WATCH FOR DANGER SIGNS!
YOU ARE RESPONSIBLE FOR THE KITTENS YOU CREATE!

WHAT DOES A RESPONSIBLE BREEDER DO? CHECK OUT THE CATS WHISKAS "THE HIGH COST OF BREEDING" PAGE!