THE AMAZING

TWOBIT

the two legged kitty
TwoBit was found in a kill shelter in Oklahoma and pulled by a caring rescuer.
Despite her deformity, TwoBit ran around and played just like any kitten. But not many people wanted such an odd looking cat.
TwoBit was adopted by one person and returned for litterbox issues. The rescuer tried to find another home, but no one wanted a kitty with two legs, no matter how affectionate, playful, and otherwise healthy.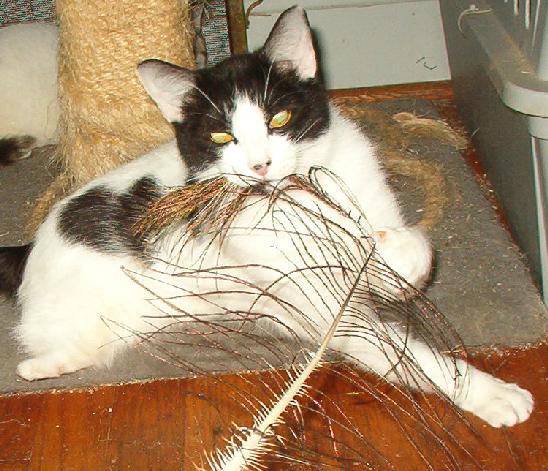 Finally the rescuer posted to
AcmeHouseOfCats
 saying she would drive ANYwhere if someone wanted TwoBit.
It happens that this rescuer had helped Bendy's Home with Mattie.
The kind person had paid for some of Mattie's vet bills and her special food. The rescuer sent coupons for cat food and anything else that might help out here which she didn't need herself. So mom replied saying "maybe we can help each other."

We had three adorable kittens that mom had bottle raised but had been unsuccessful in finding homes for. If the rescuer would take the cute, healthy, vaccinated but not spayed kittens, Mom would take TwoBit.


 It was agreed.  The woman made arrangements for catsitting and drove many many miles to bring us TwoBit.
TwoBit was placed upstairs, where she could meet the rest of us kitties slowly, through the heavy screen door. She had other cats up there, in large pens, to meet and talk with.
At first she did not care for the other cats, but with time and lots of food they became friends. Mom brings her downstairs for socializing and she hisses at us other kitties and eats our food!
Some of the downstairs cats, mainly myself, Jean-Claude, and Ghiradelli, can climb over the screen door to visit. We like to do this especially if we think there is an extra tasty treat up there!

TwoBit is a happy, healthy kitty. She uses the litterbox perfectly, climbs on the cat furniture, plays with the cat toys, scratches on the scratching posts and is in every way normal.

She is a wonderfully outgoing kitty who rides well in a car and has made several trips to the Petsmart where Mom works to meet people. She impresses people wherever she goes.

We're very happy to have her here as part of our household!