This is a special thank you to Kathy Barton and her fourth grade class.
To read about all the wonderful work this lady and her students have done, please see their page on
handicappedpets.com
.  Kathy had her students learn about and fundraise for selected handicapped pets.  Several of the cats here at Bendy's Home were chosen by her students.  The students learned about us and sent us carepackages.  They also made a generous donation to our vet bill!  Mom took pictures of each of us with our carepackages.  Some of the things us kitties weren't so thrilled about, like the baby wipes, but they have been very useful!  The q-tips make great toys, but mom seems to think they are for poking in ears.  We also received toys, treats, food, and other useful items.  Each package came in its own brown bag which had been decorated by the student for "their" cat.    The box all the packages came in also makes a great cat bed, there is always someone in it!
It was especially nice to see that Mimosa had been chosen to receive a package.  She is often overlooked by people because she doesn't run around much or demand attention and has trouble playing.  With a little help she played with her toys and even grabbed one with her teeth.  But the best part was when mean ol' Bast who rules the house tried to take Mimosa's toys and  Mimosa growled at her saying "MINE!"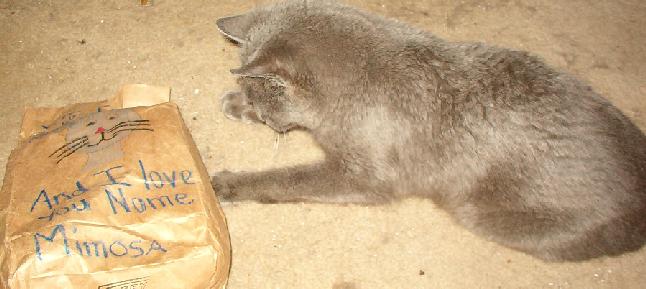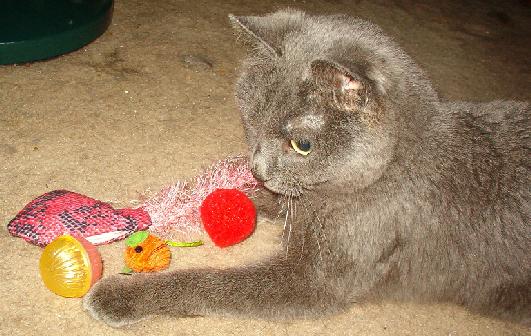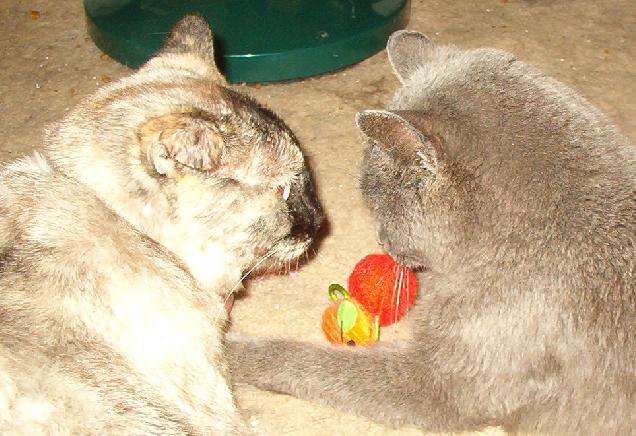 And here is cute little ME with my package!  I got a very nice card and a bag of yummi food, which I investigated first.  And I just love to look in bags.  Q-tips are great to play with, tho mom seems to think they belong in ears.  Since I am a generous Bendy, I shared with my friends.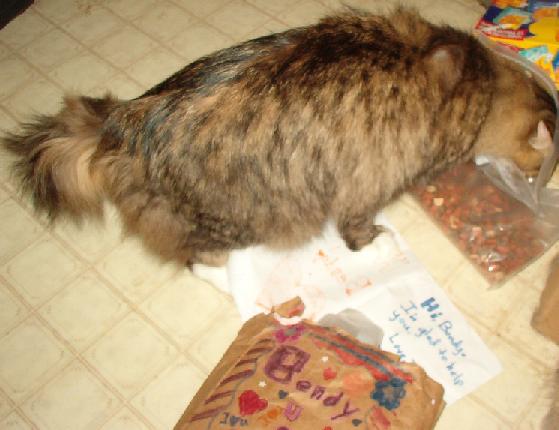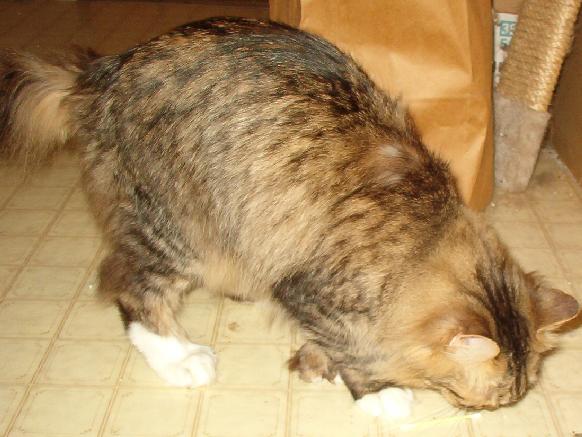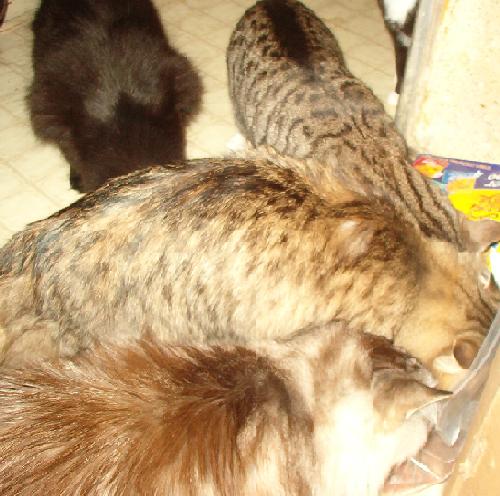 TwoBit was very happy to get a package too!  She looked very closely at the decorated package and then posed with all her loot.  After careful inspection she picked her favorite.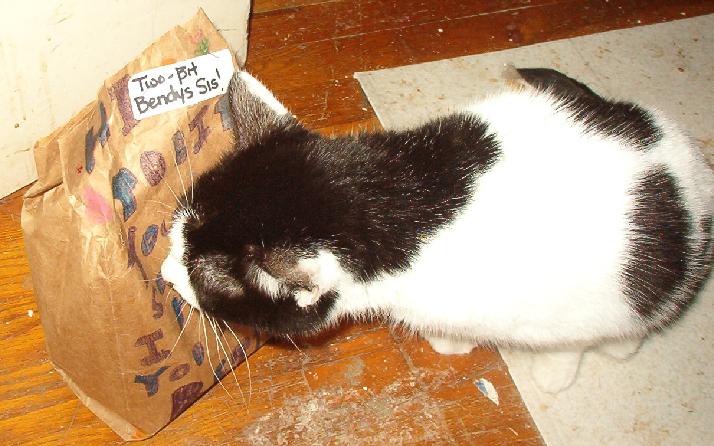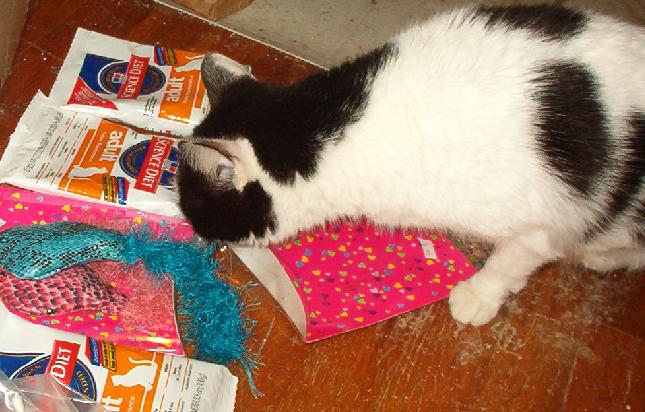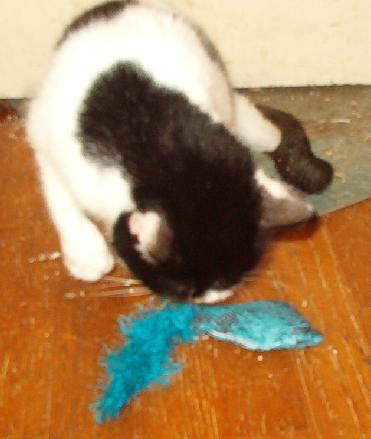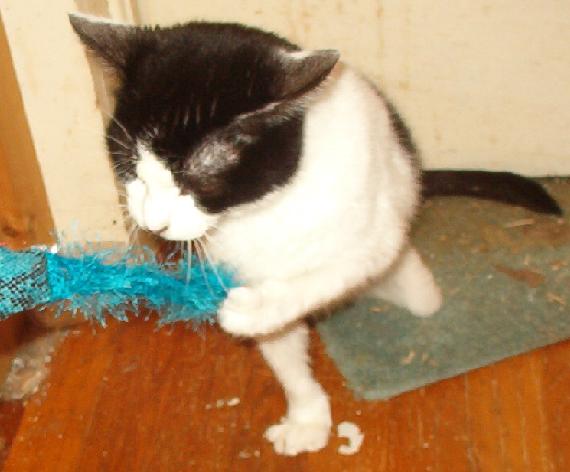 And of course Ghiradelli was happy to get a package, tho um, he is my brother but that is ok.  We all really liked the nice pict of him with his waving feet, in these picts his feet managed to stay still!   He sure showed that blue toy that it had met its match!  All that excersize made the little guy hungry, so I let him have more of my food.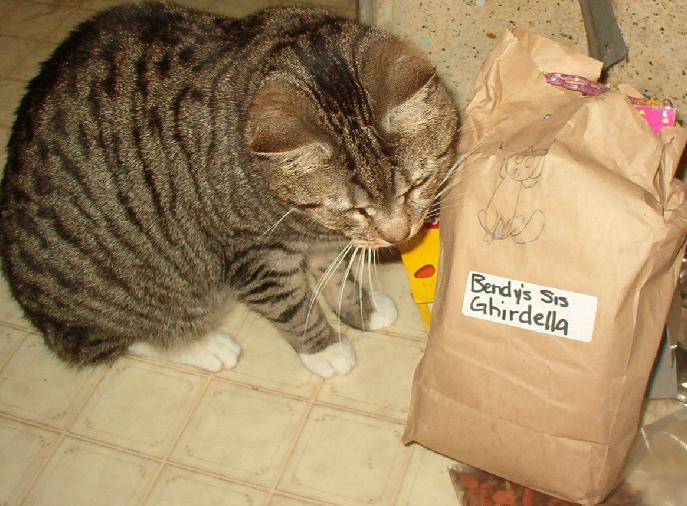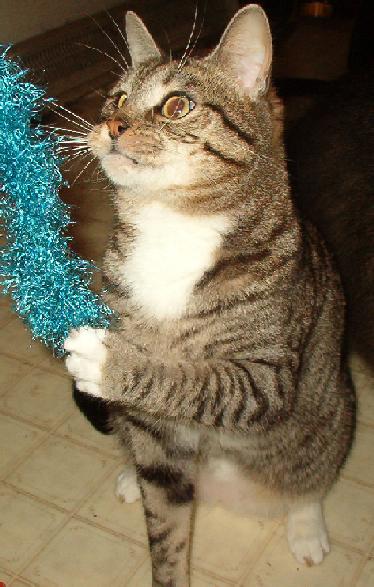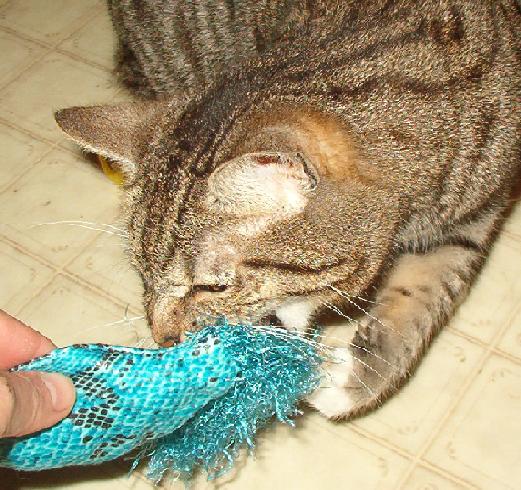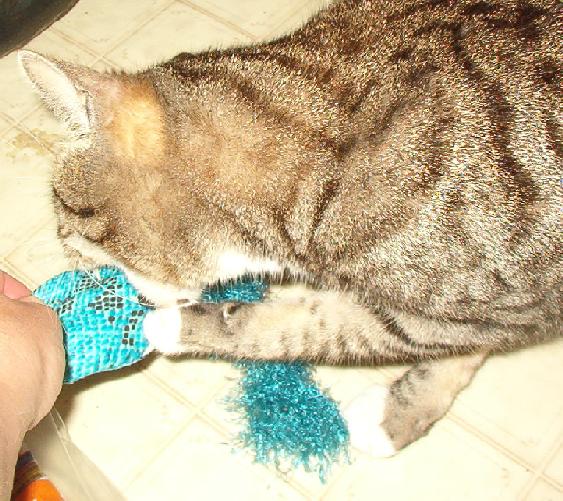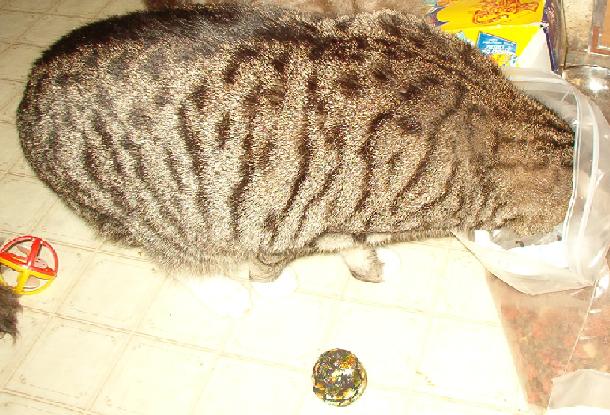 Thank you again to the wonderful kids and the extra special teacher!!!!
We hope to help many other students learn about special needs pets, and of course we look forward to more bags of fun!